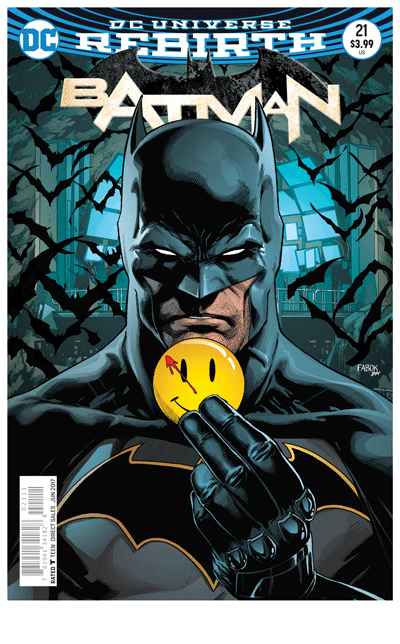 This APRIL, DC Comics' titles Batman and The Flash will crossover for a storyline called "THE BUTTON" for two issues each, #21 and #22 of each title. The storyline follows up on events of the DC REBIRTH SPECIAL, and leads to revelations about how THE WATCHMEN Universe is connected to the DC Rebirth Universe. All four issues will feature amazing Lenticular covers. Below is a preview of the Batman #21 cover straight from DC's offices.
IF YOU are a Subscriber, at either store, DO NOT ORDER THIS ITEM. Please log into your subscription management, and add an item to your subs called : ALL BATMAN / FLASH "THE BUTTON" LENTICULAR COVERS
IF you are not a Subscriber, you should be, whether you are local or mail order, but if not, you can go ahead and order the set below, which includes all 4 issues, (Batman 21,22 & Flash 21,22) shipping in April. You can choose Local Pick up option to pick it up at the store, or shipping to get it shipped to you.
PURCHASE BATMAN FLASH "THE BUTTON" SET