You are here:
Home
›
Collector's Paradise is turning 20 years old!
Collector's Paradise is turning 20 years old!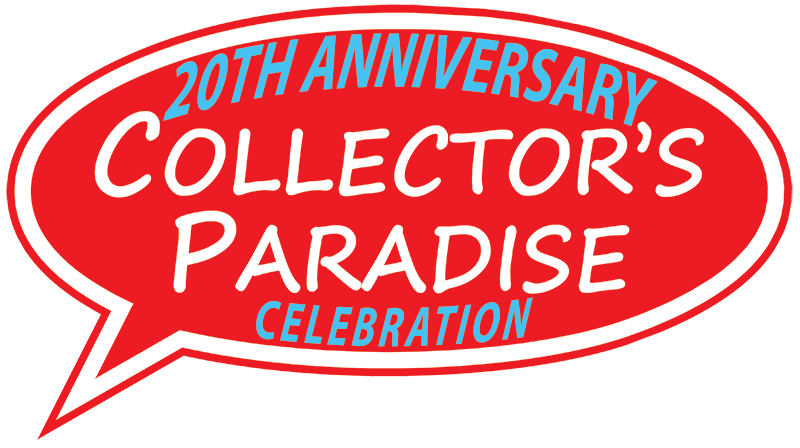 Collector's Paradise' San Fernando Valley store opened in September of 1994.  I was an avid collector who was out of a job, and one of the stores I frequented at the time, called Little Angels Comics (weird name, right?)  was either going to close or sell.  I convinced my then girlfriend's dad to put up some money and we bought Little Angels, renaming it Collector's Paradise.  Of course, I married the girlfriend, and we have been married for almost 20 years.  Through those years, Joseph and I have seen many kids grow up, become adults and have children of their own.  We have been to several weddings, and sadly, a couple of funerals, too.  We have made many life-long friends along the way.  While I am not at the store frequently these days, running another business,  the times I am there is all about seeing the familiar faces, who I miss terribly.  Getting to catch up with them is a highlight of my time at the store.  September is for all of these people, our customers, our friends.  We have tried to bring some fantastic entertainment, including comics Superstar Marc Silvestri, and a personal hero of mine, someone I have been trying to get out to Los Angeles to sign for many years (ask Marv Wolfman how hard I have been lobbying),  George Perez.   We also have a fantastic different sale each week, some of the biggest discounts we have ever offered to our customers.
I would like to thank our customers for a great 20 years, and, hopefully, many, many more to come.  I have never thought of it as a job coming to the store, and i really hope it has showed.
Below are links to RSVP For our two big events, where you can also find much more details on each individual event.  While you are there, please Like our Store Pages for Valley and Pasadena.  It helps us, and you will know about all our upcoming events.
Marc Silvestri – Click HERE          George Pérez –  Click HERE
Thanks,
Edward Greenberg