Free Comic Book Day – Winnetka
May 4, 2019 @ 9:00 am

-

7:00 pm

PDT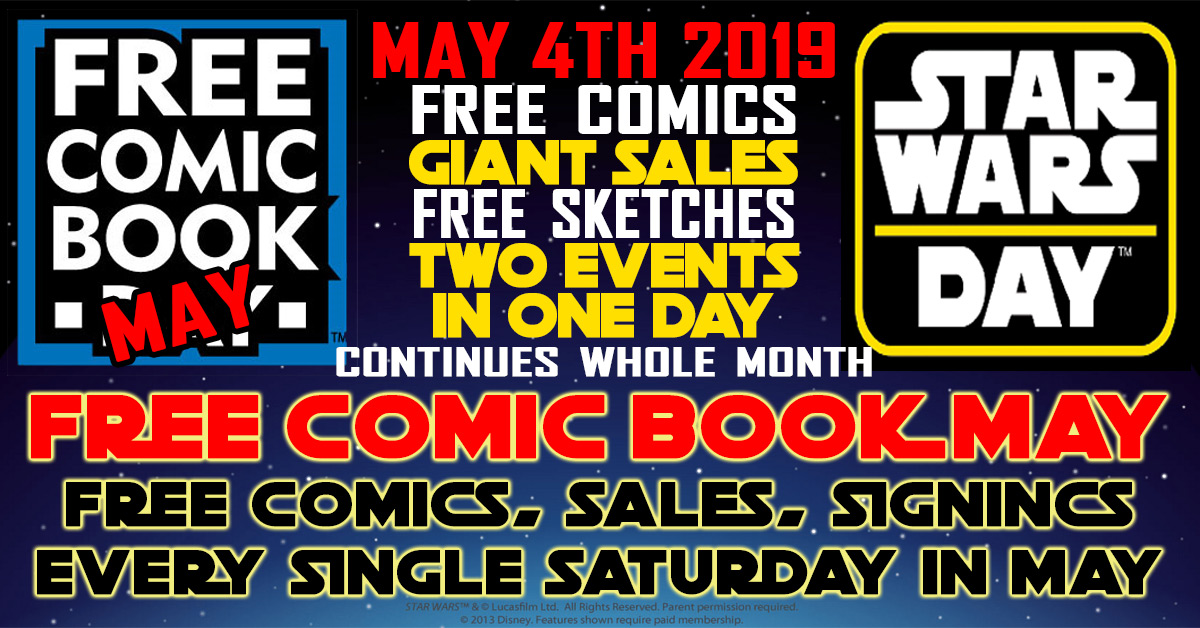 MANY stores do
Free Comic Book Day
every first Saturday in MAY, but nobody does FCBD like Collector's Paradise stores. We turn it into a MONTH-LONG Event with SIGNINGS, SALES and Free Comics (and FREE Graphic Novels, keep reading) Every Saturday in MAY.
This year, FCBD falls on May 4th, (May the force), which many celebrate as STAR WARS DAY, and we are combining both into a crazy celebration of all things related to comics with two GIANT SALES, plus Comic Book Artists doing FREE SKETCHES for kids (adults, please let kids get sketches, this is their day for that), at both stores.
This year, we will have the following amazing artists drawing sketches for kids:
Scott Shaw! – For forty-eight years, Scott Shaw! has written and drawn underground comix (Fear and Laughter, Gory Stories Quarterly), kids' comic books (Captain Carrot and his Amazing Zoo Crew!, Sonic the Hedgehog, Simpsons Comics), comic strips (Bugs Bunny, Woodsy Owl), graphic novels (Annoying Orange), TV cartoons (Jim Henson's Muppet Babies, The Completely Mental Misadventures of Ed Grimley, Camp Candy), toys (McFarlane Toys' line of Hanna-Barbera and Simpsons action figures), and advertising (Pebbles Cereal commercials starring the Flintstones). His work has garnered him has four Emmy Awards, an Eisner Award, and a Humanities Award. Scott also is known for his presentations of "the craziest comic books ever published", Oddball Comics Live! (with a long-awaited book coming in Summer, 2020 from TwoMorrows) and his regular participation in Quick Draw! with Mark Evanier and Sergio Aragonés. He was also one of the kids who created what is currently known as Comic-Con International: San Diego. https://www.shaw-cartoons.com/
Jason Reeves
– is a comic book creator / publisher of the imprint 133art. Jason is also a freelance illustrator having worked for Esquire Magazine, HASBRO, USAToday, Heavy Metal and others, and his own series Kid Carvers and One Nation.
Evan Burse
– Evan has been an animation professional for over 10 years. He's worked on such shows as Batman: The Brave and the Bold, Black Panther, Marvel's Hulk and The Agents of S.M.A.S.H., and Teen Titans. Since 2009, Evan has been passionately teaching aspiring artists how to draw their favorite characters on his YouTube channel, Cartoon Block. The channel has accumulated over 100,000 subscribers and over 18 million views.
Kristian Horn
– Kristian is a talented young cartoonist and podcaster, with Part-Time Fanboy Podcast, and his own website, kristianhorn.com where he specializes in digital image manipulation, web and logo design, cartooning and media design. He is also the co-creator of Baby Badass, published through Action Lab comics and works on his own web comic, The Periwinkle Puss, in his spare time which can be found at www.periwinklepuss.com.
Don't forget to grab a copy of your STAMP CARD when you are at the store, and stop by EVERY SATURDAY for free comics, more signings, plus, on May 25, if you have all 4 stamps, a FREE GRAPHIC NOVEL (from a special selection, generously donated by our sponsor publishers).