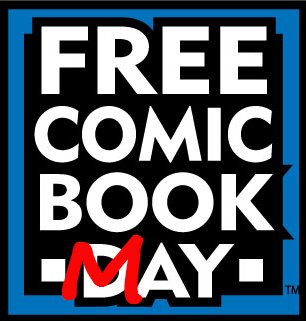 It all starts on May 2, with fantastic artists in each store doing FREE Sketches for kids. Adults, you may be asked to get in the back of the line, or pay artists for sketches, this is a day for kids to get into the fantastic world of comics and art with an awesome original piece of art. Every Saturday in May we will feature different events, as well as our continuing Free Comics Giveaway using our STAMP CARD (see below, make sure to read the rules) as well as a different themed sale. The fun never stops in May.
Free Comic Book May Stamp Card
Get your free Stamp Card on Free Comic Book Day (May 2) then bring it to the store every Saturday in May to receive specially selected free Comics & Graphic Novels (on 30th) but ONLY if you come every week and get a stamp. Do not skip weeks, or you lose your chance for free items. Plus every one of those Saturdays we will have an amazing SALE and probably a really cool event or two with some of the hottest artists and creators in comics. Do not forget to grab your free Stamp Card, and we hope to see you every single Saturday in May.