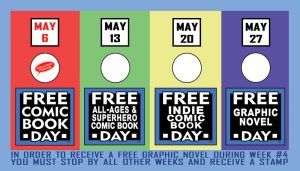 Check out the flyer below for the themed weekly events, every Saturday in May, including UNIQUE SALES and different giveaways. Also, MAKE SURE to pick up our Stamp Card on FCBD this Saturday. If you come in every Saturday and get it stamped, you will receive a FREE GRAPHIC NOVEL (special selection) on the last Saturday in May.
Also This Saturday, at both stores, we will have Comic Book Artists doing sketches for kids (no collectors please, the sketches are for the kids, we need more comic book readers, and there is no better way to introduce kids to comics).
To the right is a Wonder Woman sketch by Fan Favorite CHIBI artist Rick Basaldua, who will be at the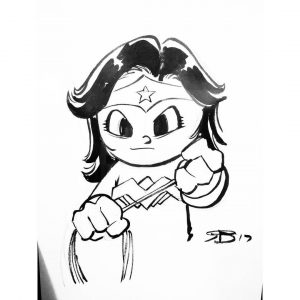 Pasadena store from 12-3. In addition to Rick, we will have Image Comics artist and co-creator of Rockstars, Megan Hutchison from 11-1pm, and at the Valley store, we will have an awesome sketch artist, Evan Burse, as well as Kiernan Sjursen-Lien, writer of Boom! Studios' Over the Garden Walls and a fantastic animated style artist, both sketching from 12-3pm.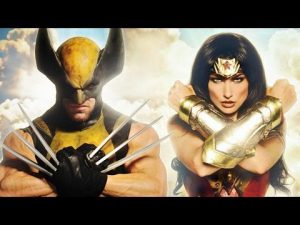 Through our partnership with BAT IN THE SUN and their super famous YouTube show, SUPER POWER BEAT DOWN, We will have the ACTUAL Super Power Beat Down actors in full costumes, at both stores. Spider-Man and Wonder Woman will be at the Valley store, and Wolverine will be at the Pasadena store.
WATCH "Wolverine vs Wonder Woman" NOW! (Don't show to your kids, it's very mature)
We will also have a couple of FREE SPECIALS for our customers that we will reveal on the day of the event this Saturday. Please check out the flyer below, for all the awesome sales and make sure to grab that stamp card and come down every week to get the stamps in order to get a FREE Graphic Novel.