You are here:
Home
›
DC Relaunch Midnight Release Party & Sale!
DC Relaunch Midnight Release Party & Sale!



On Wednesday, August 31st, DC Comics will launch a historic renumbering of the entire DC Universe line of comic books with 52 first issues. This HUGE undertaking is NOT a reboot, but rather a relaunch of the titles, with some characters getting refreshed, while others continue from the previous adventures. DC's strategy is very sound: If the character's books sold and were compelling, they continue without many/any changes at all (i.e. Batman Family, Green Lanterns). If the books have been floundering without a clear direction, changes are made to make them more fresh and interesting (Superman, Wonder Woman). Everything else is in between. With a new reinvigorated style, overseen by Jim Lee, and a promise of no more "writing for the trades", the new book promise to be exciting and entertaining.
Now that you see how excited folks at DC are about this new relaunch, here is what we at Collector's Paradise are doing for this relaunch.
MIDNIGHT RELEASE PARTY – CANOGA PARK – TUESDAY, AUG 30th, 9:00 pm – 1:00 am

On Tuesday, August 30th, we will re-open our Canoga Park store at 9:00 pm for a HUGE DC SALE,  that will culminate in Midnight Release for two DC Titles coming out that week, Flashpoint #5 and Justice League #1. Flashpoint #5 is the final issue of the mini-series, and will feature the event that will alter the DC Universe so that it becomes the "NEW" DC Universe. Justice League #1 by JIM LEE and GEOFF JOHNS is the first title from the new DC Universe, the Flagship book of the whole line. We will start selling the books at 12:01am (Midnight) but from 9:00 pm, we'll have a HUGE sale one everything DC prior to release of DC NEW 52. It will also be your first chance to reserve the rare Justice League VARIANT cover by JIM LEE. We will serve drinks and snacks to celebrate this event.
SALE DETIALS:  ALL DC Graphic Novels and Comic Book Single Issues are going to be 52% OFF to celebrate the Relaunch.  The only books not included are the main Flashpoint Mini-Series and the new Justice League #1.
RAFFLE:  Every $10 spent on SALE ITEMS will give you a Raffle Ticket, and one person, revealed at Midnight, will win a Complete Set of all 52 #1 Issues.  Other prizes may be given out, too.
ALL 52 ISSUES 100% RETURNABLE
We have been known for our policy of making books returnable for many years. If we believe in the book, we make it 100% returnable. Well, for the first time in our 17 year history, we are making the whole DC New 52 line 100% Returnable. Buy any of the books during the week they come out, and return them by the following week, and get credit towards any other comics in the store. Only keep and continue with the books you WANT to read (and if you are not in our Online Subscription Service, you may want to check it out).
LET US KNOW WHAT YOU WANT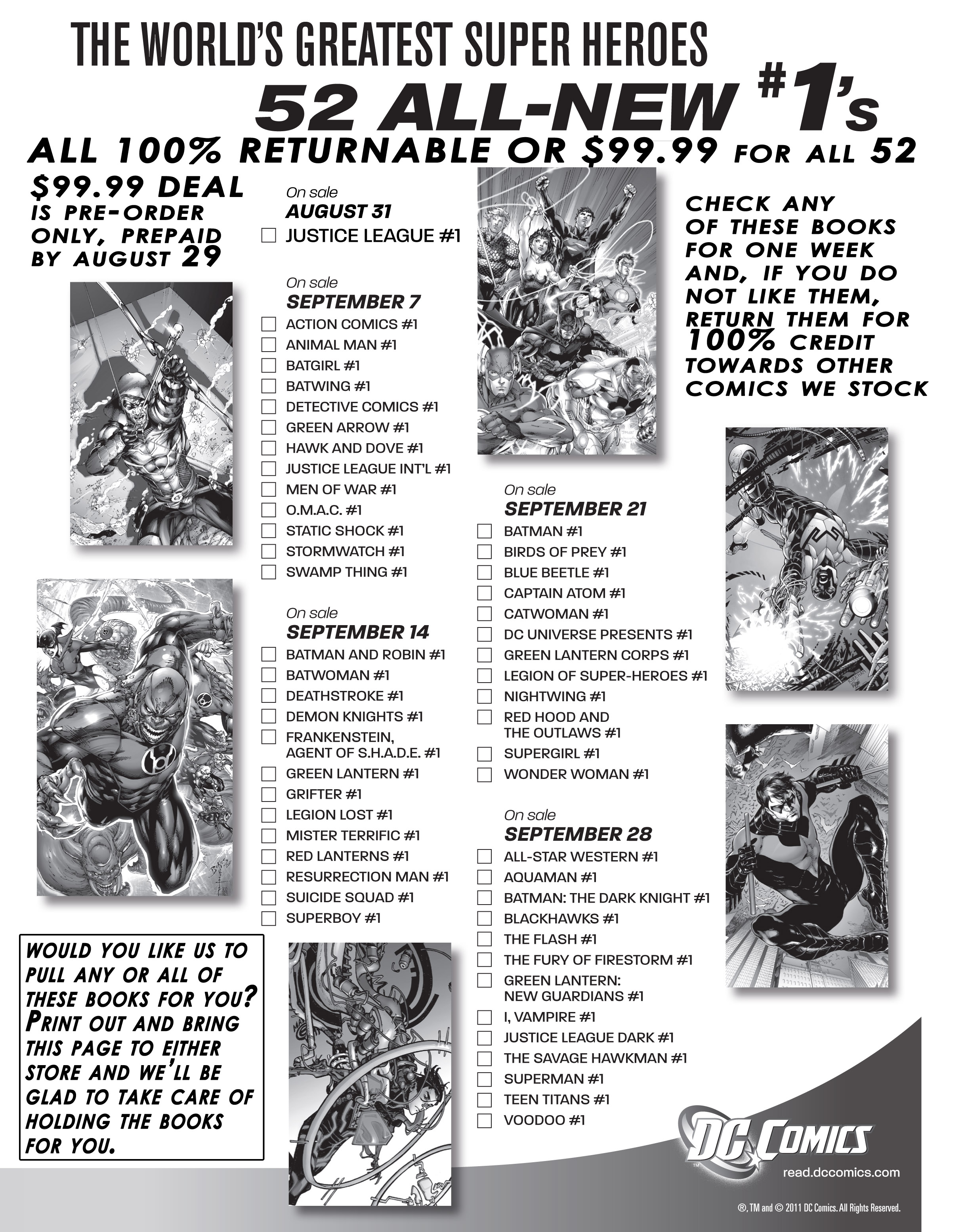 Just click on the image to the left, print out the full size copy and return it to the store. Tell us how you want to do it and we'll set you up to make sure you don't miss a single issue. The main 3 options are:
– I WANT TO GET ALL 52 #1 issues and get them 100% RETURNABLE
– I WANT OT GET SOME of the 52 #1 issues and still want them RETURNABLE
– I DON'T CARE ABOUT RETURNABILITY and want my 52 #1s for $99.99