You are here:
Home
›
MIND THE GAP LA Release Signings: McCann, Rodin Esquejo & Sonia Oback
MIND THE GAP LA Release Signings: McCann, Rodin Esquejo & Sonia Oback
This has been under wraps for a long time, but I think it's finally time to reveal some information about our plans for release of an awesome book from a dear friend AND a regular customer at our Valley store, Jim McCann. Some of you know Jim from the awesome Hawkeye series he'd done for Marvel, (he's a little obsessed with that character).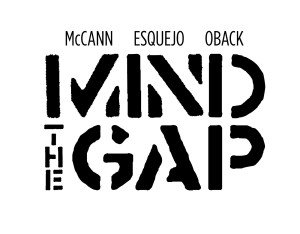 Others know him from the Eisner Award-winning Return of the Dapper Men series he co-created with the uber-awesome Janet Lee.  Now Jim's most exciting creation comes to us from Image Comics. It's called Mind the Gap, and in addition to Jim, it features Morning Glories cover artist Rodin Esquejo on art, with ridiculously talented colorist Sonia Oback (she's the one who made Mike Choi's Marvel art look so HOT!).
Mind The Gap follows the survivor of an attempted murder attempt who tries to piece together the information to find out who tried to kill her. The thing is, she's in a coma with her body bound to a hospital bed and her mind wandering in the wide open. It's a whole new kind of murder mystery that McCann describes as X-Files meets Twin Peaks where the main character is, in effect, Laura Palmer.
Collector's Paradise will celebrate the release of Mind The Gap #1 with not one but TWO Release events on Wednesday, May 2nd.  Both will feature an EXCLUSIVE Mind The Gap Variant cover by Runaways team of Adrian Alphona & Christina Strain, an EXCLUSIVE Ashcan (500 made) only available at C2E2 and at Collector's Paradise Release events, and an EXCLUSIVE PRINT, only available at our Events.
Valley Signing will happen from 12pm to 3pm – a perfect lunch window to meet the team of one of the HOTTEST new books out!
Pasadena RELEASE PARTY will happen from 6pm to 9pm and will feature Free Alcohol and snacks in an adult-only atmosphere where you can chill with the guests and fellow collectors and really enjoy yourself.