You are here:
Home
›
Spotlight on Local Publishers: Boom! Studios
Spotlight on Local Publishers: Boom! Studios
BOOM! Studios is our second Featured Publisher of the Month!
BOOM! Studios was founded in 2005 by Ross Richie and Andrew Cosby. The company publishes a wide variety of material, from the humor of Hero Squared, Planetary Brigade and What Were They Thinking to horror with Cthulhu Tales  and Fall of Cthulhu, to crime with 2 Guns and sci-fi with Salvador.  Prior to BOOM!, Richie and Cosby worked at Malibu Comics from 1993 to 1995. The duo left the comic book business to pursue careers in feature films and were involved producing the feature film adaptation of Mage by legendary comic book creator Matt Wagner with Spyglass Entertainment, among others. Working with Dark Horse Comics, the duo set up "Damn Nation" at MTV Films/Paramount Pictures, a comic book Cosby created. Andrew Cosby is the co-creator of the Sci-Fi Channel TV show Eureka.
At the 2007 San Diego Comic Con BOOM!  announced the appointment of Mark Waid as Editor-in-Chief.  Boom have also signed a deal with Disney/Pixar to produce comic books based on their properties, titles which secured newsstand distribution.  The company has been very active by participating in various events, including the L.A. Times Festival of Books, Heroes Con, San Diego Comic Con, Toronto Fan Expo, D23 Disney Convention, and Baltimore Comic Con.   The publisher launched another imprint in early 2010 called Boom! Town, which would be working with people like Denis Kitchen and Shannon Wheeler and focusing on "literary comics."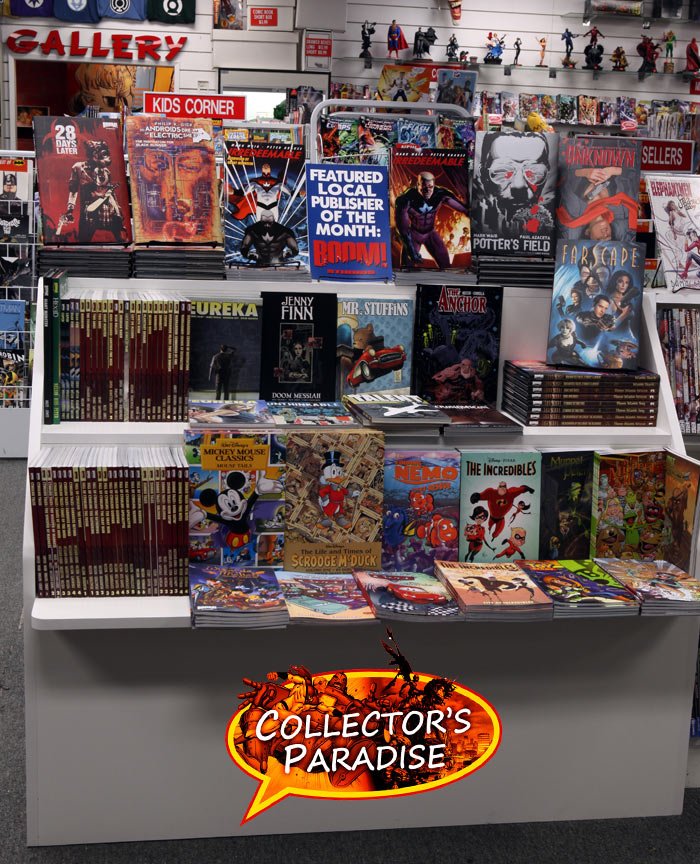 Related Images: