Description
Get Ready for VEI's BIGGEST Release To Date, X-O Manowar 1 and our X-O Manowar 1 Exclusive Variants
This item includes BOTH of our exclusive variants to X-O Manowar #1, the Color cover and the Black/White Cover!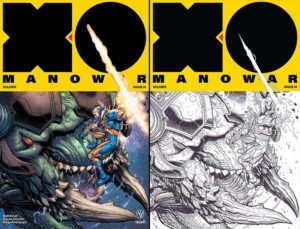 In addition to our sales of X-O 1 Exclusive Variants (Color and Black/White covers), we are doing two distinct pre-orders. One is just for all covers of issue #1, and another one for all covers of the first story line, issues #1-3 (links below), with a HUGE EXCLUSIVE BONUS that everyone will be talking about.
Check out our other X-O Manowar pre-order set, that includes all covers for issues #1-3 plus even bigger, incredible bonuses.