You are here:
Home
›
gerry dugan
Tag Archives | gerry dugan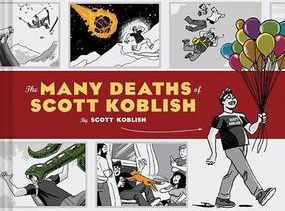 Scott Koblish is a busy guy. In addition to drawing SO MUCH Deadpool, he had time to draw a cover with 300 Deadpools AND to draw and write his own amazing book, THE MANY DEATHS OF SCOTT KOBLISH!!! We think that deserves a Celebration, so please JOIN US on Saturday, May 12th, for a Deadpool 300 signing that's really just a way to get you to the store so that you can see THE MANY DEATHS OF SCOTT KOBLISH book.
And while you are there, you will meet some other amazing folks, like Stephan Franck and his crazy good SILVER series of GNs, Jim McCann and his Hawkeye books, creator own books and kids books, and Darin Henry, who's got a super cool take on comics that I have never seen before, 80 page giant Binge Books for like $3. Awesome stuff.
Related Images: