You are here:
Home
›
Scott Koblish
Tag Archives | Scott Koblish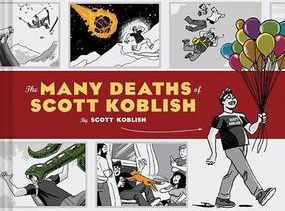 Scott Koblish is a busy guy. In addition to drawing SO MUCH Deadpool, he had time to draw a cover with 300 Deadpools AND to draw and write his own amazing book, THE MANY DEATHS OF SCOTT KOBLISH!!! We think that deserves a Celebration, so please JOIN US on Saturday, May 12th, for a Deadpool 300 signing that's really just a way to get you to the store so that you can see THE MANY DEATHS OF SCOTT KOBLISH book.
And while you are there, you will meet some other amazing folks, like Stephan Franck and his crazy good SILVER series of GNs, Jim McCann and his Hawkeye books, creator own books and kids books, and Darin Henry, who's got a super cool take on comics that I have never seen before, 80 page giant Binge Books for like $3. Awesome stuff.
FREE COMIC BOOK MAY is halfway through, but we are already preparing for the last Saturday in May, when we give out FREE GRAPHIC NOVELS (if you stopped by and got stamps every Saturday in May). But that was not enough for us, so we wanted to end this shindig in style. And what better way than to invite the artist that has drawn most things Deadpool in the last few years. 'Cause that character is not popular enough, and we want to make it more popular by exposing more people to it. (Yikes!)
About Deadpool artist Scott Koblish
Scott Koblish is an accomplished comic book artist, having worked for both Marvel & DC on titles such as X-Men, Elektra, Punisher, Final Crisis, Hunterss / Power Girl, Forever People, Omac, World's Finest, Legion of Superheroes, and MANY MANY more, over 500 issues of comics so far. In the last few years, his name has been associated with everything Deadpool, both on the regular series and several mini-series. Just this month, Scott has 3 issues coming out: Masacre mini, The Last Days of Magic mini and issue #12 of the regular series. Scott Koblish IS DEAD(pool).

ABOUT FREE COMIC BOOK MAY
Free Comic Book May is a yearly event at both Collector's Paradise stores.  Every Saturday in May we give away 100s of FREE Comics and hold a different Sale.  We give every customer who comes in during week 1, a stamp card, which, if they stamp every Saturday, will get them a FREE Graphic Novel (from a special selection).  We also hold signings, release events, artists sketching for kids and all types of other cool things.  If you are interested in always being aware of all events held at Collector's Paradise stores, please follow us on Facebook, Instagram and Twitter, and subscribe to our newsletter (look at the left edge of this page).